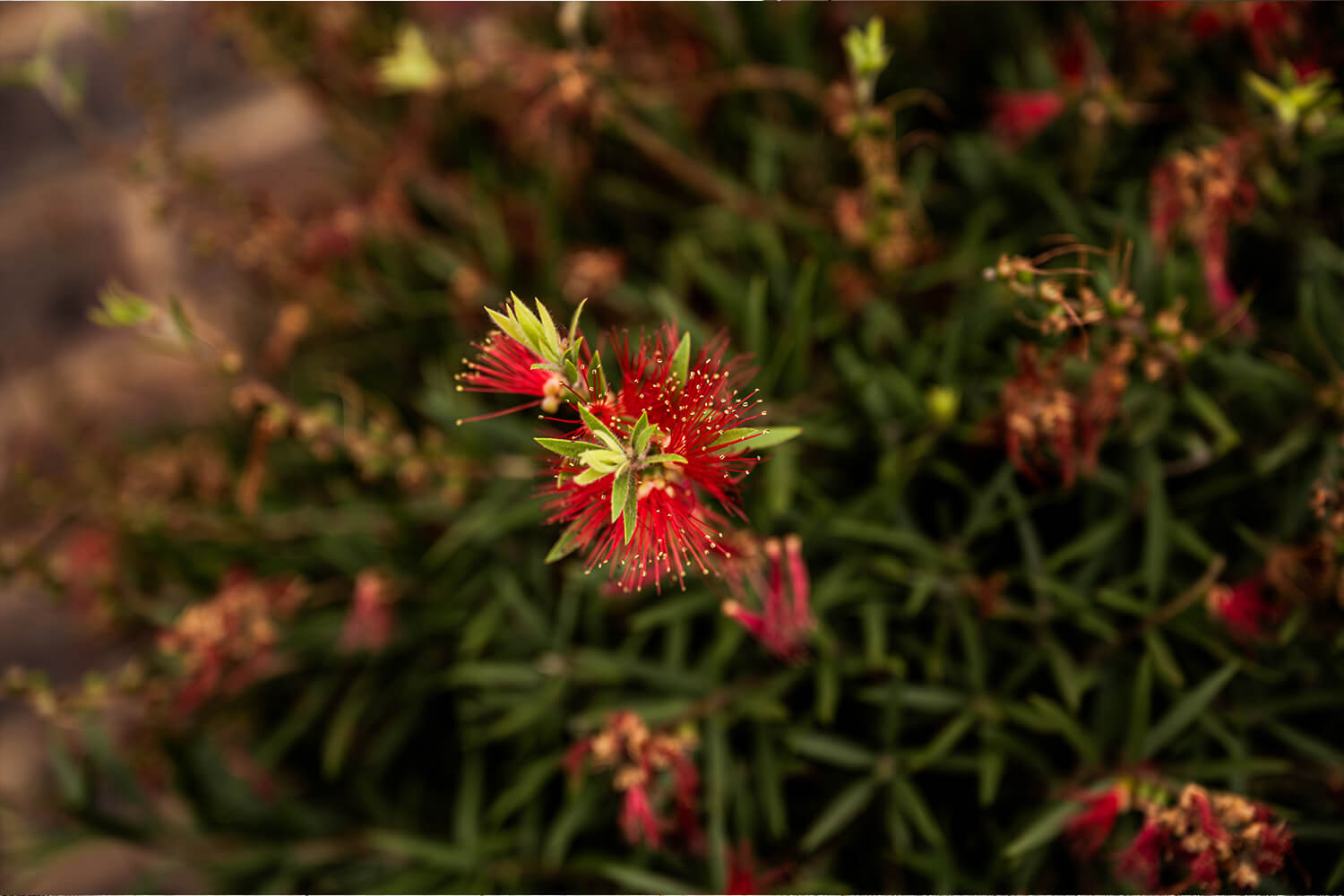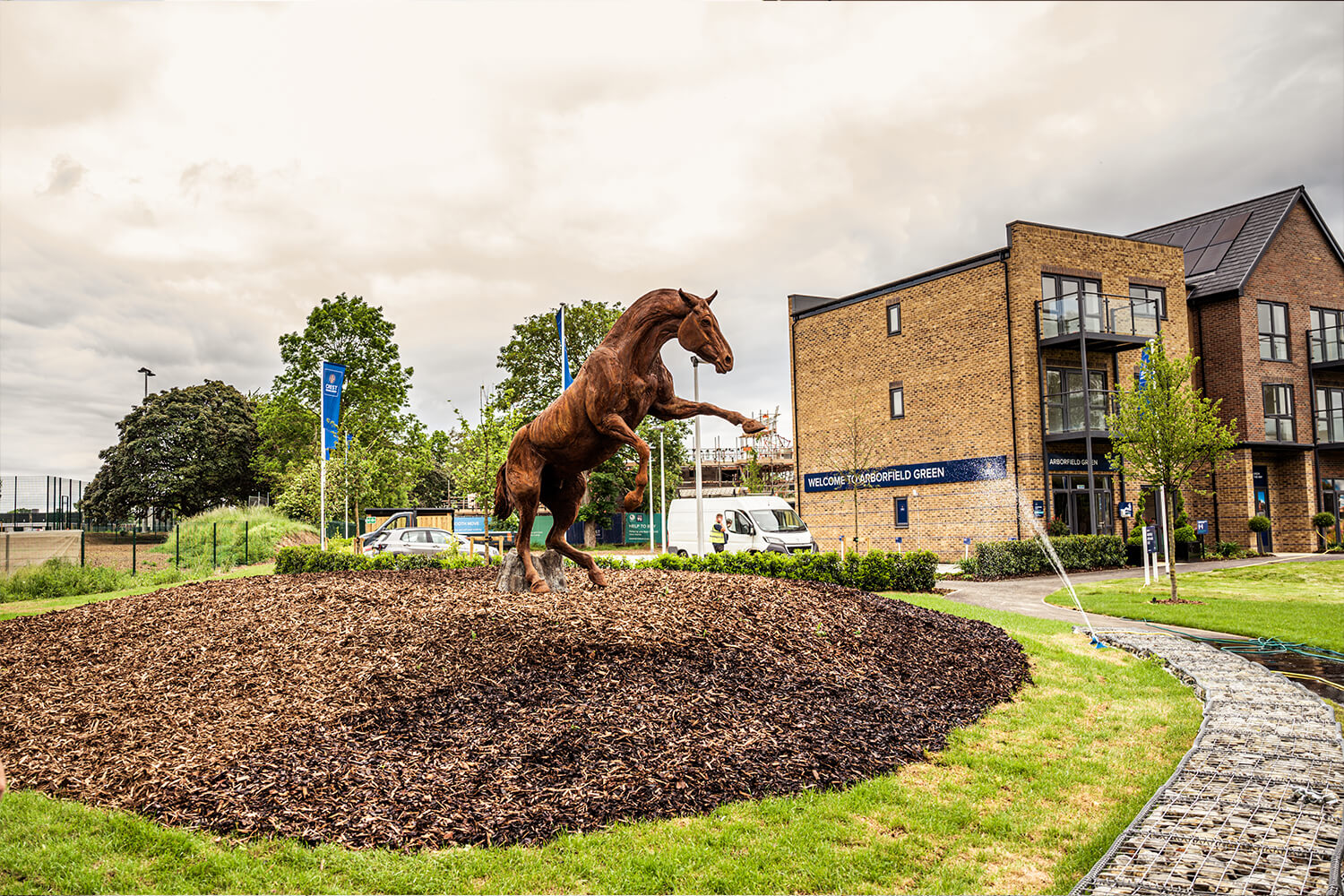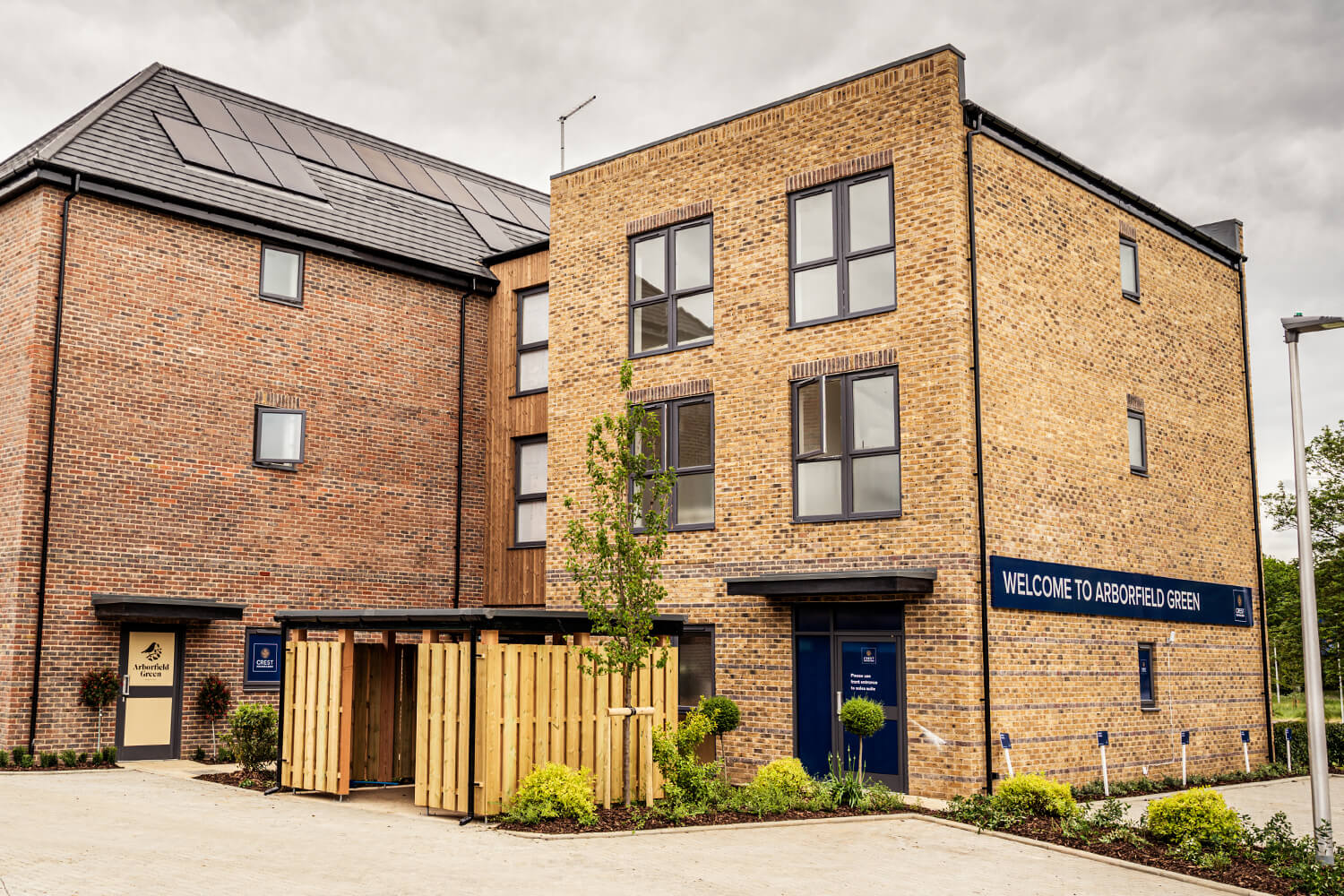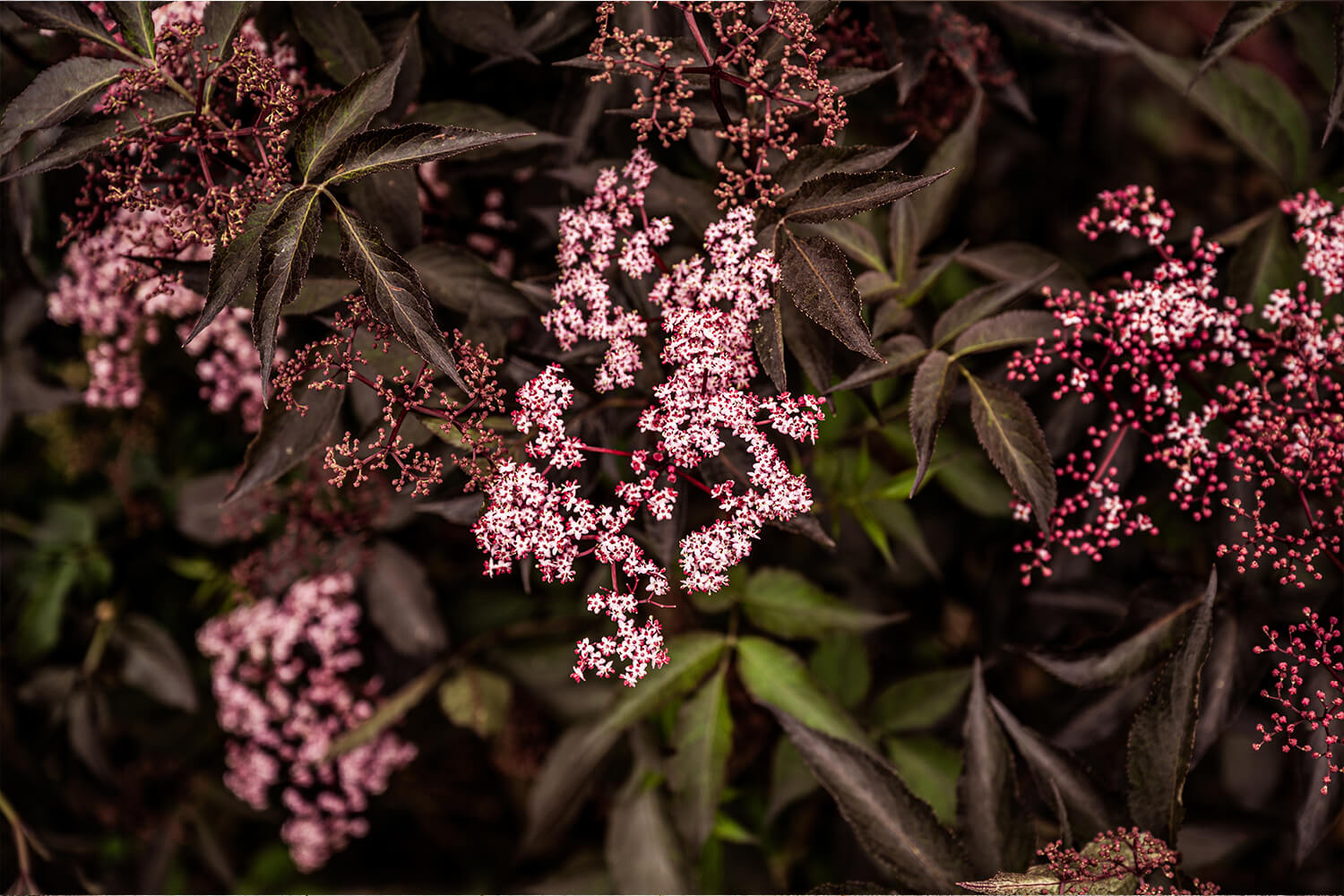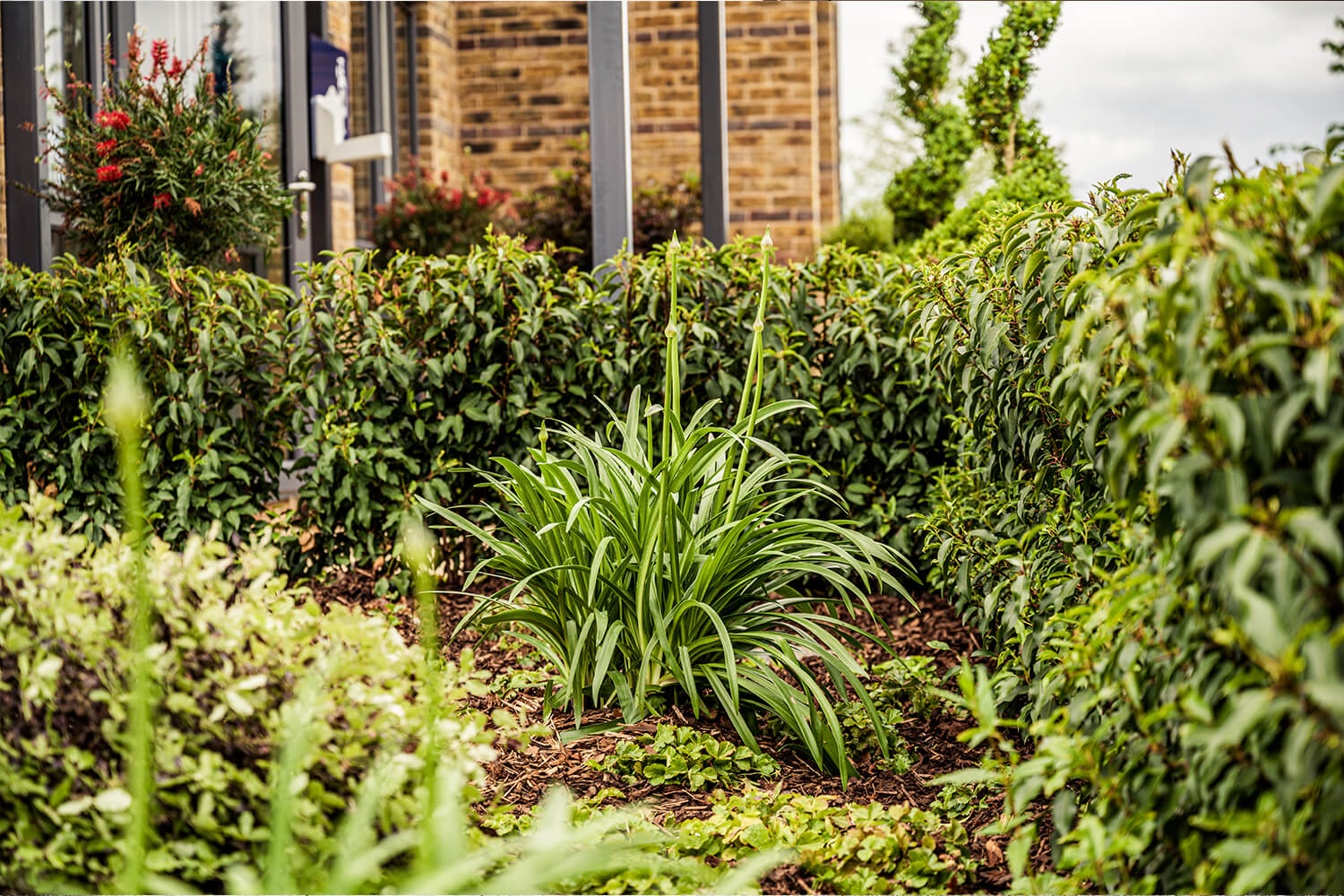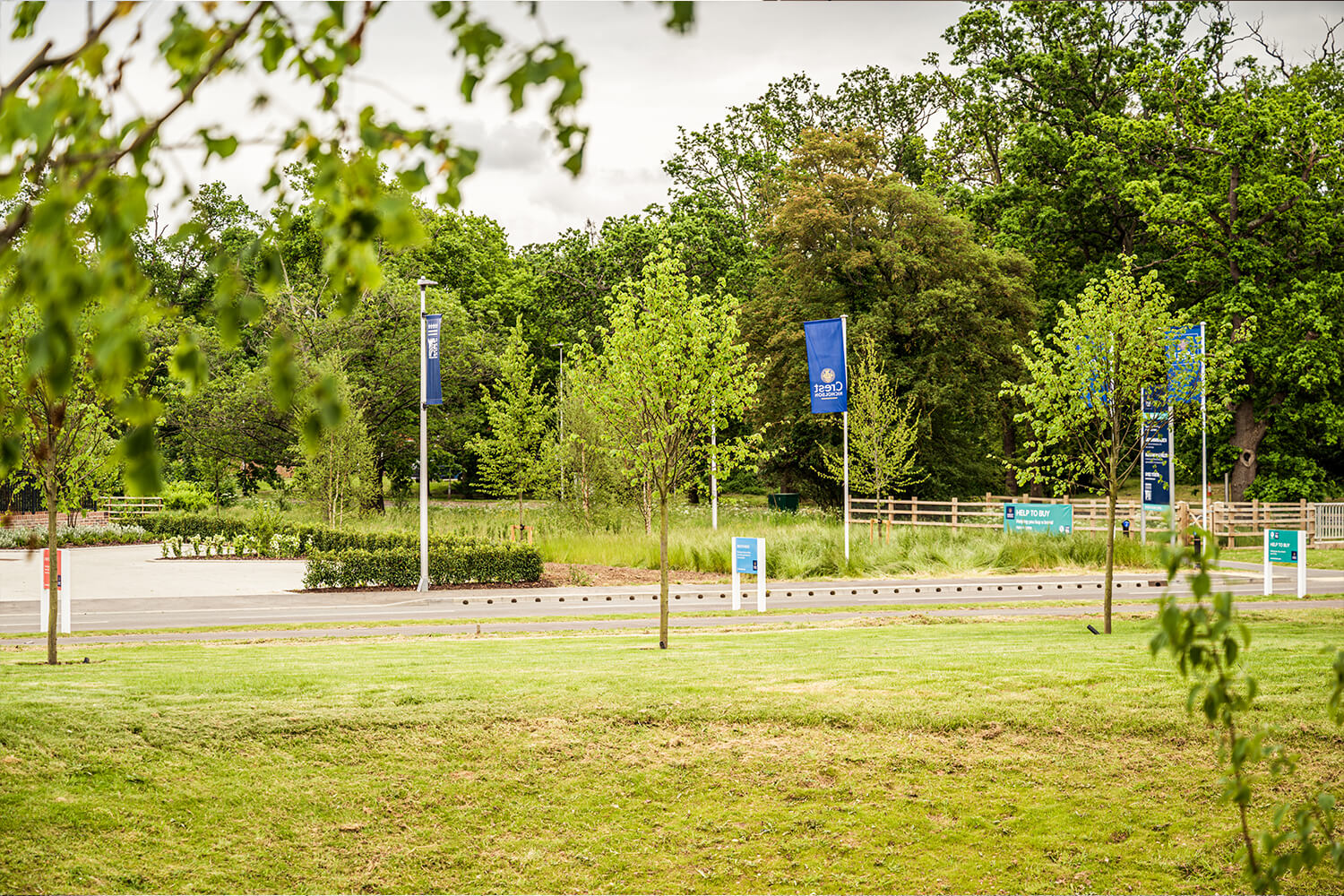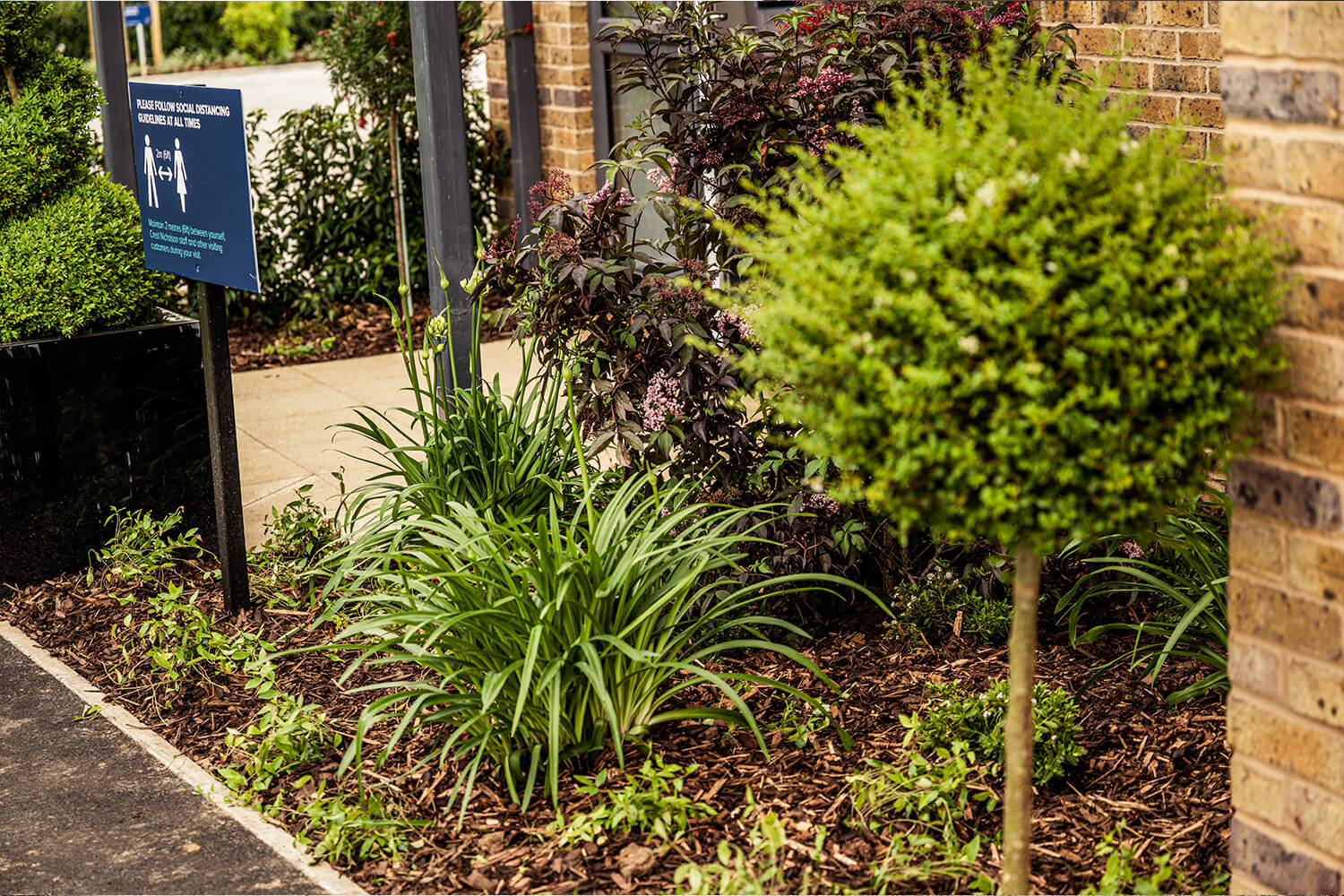 Arborfield Green, Reading
Project: Arborfield Green
Client: Crest Nicholson
Location: Arborfield, Reading
Overview
Archway Green brought to life the landscape around this modern high-rise apartment building, featuring beautiful plants, shrubs, and trees to enhance the surrounding spaces. 
In the landscaping plans, we also created three areas to highlight the striking bronze horse statues, which were commissioned to celebrate Arborfield Green's history and the role the local area and horses played during the war.
The Brief
The local area is known for its stunning countryside, large open spaces, and is a very popular place to live – with this in mind the landscaping needed to reflect this. It was important that the apartment building was surrounded by a diverse flower bed, filled with a variety of all-season flowers and shrubs, and that the bottom apartments could achieve some privacy from those walking or driving past. 
A variety of trees were also requested around the apartment and throughout the development, to add height and shape to the landscape. 
Our Approach
Archway Green not only included many of the standard firm favourites for this project, but also gave the landscape some unique plants and shrubs with eye-catching colours and blooms, to create interest in the area and community. 
Many of the plants used around the edge of the building are distinctive, and add personality/character; the Callistemon citrinus 'Splendens' is a great example of this with its bright, crimson, fluffy flower top with slender branches. This shrub grows well in a sheltered position and has year-round foliage, flowering in spring all through the summer, bringing a brilliant touch to the borders of the apartment and a bright pop of colour.  
 Another beautiful shrub is the Sambucus nigra f. porphyrophylla 'Gerda', which is a deciduous shrub with stunning purple foliage flowering in spring through to autumn with pinkish/purple flowers followed by black berries. This shrub is one to be desired and looks great amongst the other flowers. 
Many trees were used in the open spaces of this site, such as the Carpinus betulus (common hornbeam). This tree is a large deciduous tree with ribbed ovate leaves, which turn a spectacular yellow colour in the Autumn months, followed by catkins in the spring. This tree is a great choice for the open spaces of this peaceful setting, providing year-round interest, height, shape and colour to the landscape (especially during Autumn).  
The Result
Archway Green have given residents a beautiful and diverse landscape to enjoy, including many varieties of plants, from the Skimmia japonica 'Rubella' to the Malus 'Evereste'.  
Apartment living has been given full privacy, provided by vibrant, fast-growing hedging, and with the spaces surrounding the apartments, the opportunities are endless! Large and lush greens can be used for picnics and get togethers, beautifully planted sidewalks can be used for family outings or for individual residents to quietly wander and admire the views.  
Archway Green made sure there was something for everyone.  
Find out what we can do for you